My sweet duo
Cleansing and soothing micellar water and washable cleansing discs
My gentle cleanser :
💦 Cleans & soothes
🌿 95% natural origin and vegan
🇬🇧 Made in France
🔬 Tested under dermatological and ophthalmological control
👧 Suitable for sensitive skin from 4 years old
♻️ Refillable bottle

My zero waste washcloths
:
♻️ Reusable
🇬🇧 Made in France
✅ Oeko-tex certified fabrics and yarns
👧 Suitable for sensitive skin from 4 years old
Regular price

€35,67

Sale price

€30,32
Efficacité prouvée
Ingrédients magiques

Magical Ingredients - Cleanser:
Provitamin B5: Renowned for its cleansing properties.
Betaine: Known for its soothing properties.

INCI-list:
AQUA (WATER), PROPANEDIOL, ISOPENTYLDIOL, BETAINE, SODIUM PCA, 1,2-HEXANEDIOL, PANTHENOL, PENTYLENE GLYCOL, PROPYLENE GLYCOL, POLYSORBATE 20, PARFUM (FRAGRANCE), CETRIMONIUM BROMIDE, POTASSIUM SORBATE, SODIUM BENZOATE, CITRIC ACID

The list of ingredients may be subject to change. Be sure to always check the list of ingredients on the purchased product.

Magical Ingredients - My Washcloths:
Microfleece: Fabric known and recognized by all toddlers for its absolute softness!

INCI listed: 100% polyester

The list of ingredients may be subject to change. Be sure to always check the list of ingredients on the purchased product.
Un jeu d'enfants

MY GENTLE CLEANSER:
Directions for use: Apply to the face using a cotton pad morning and evening without rinsing.

Ergonomics: Easy to use alone from 4 years old, My gentle cleanser has an intelligent dispenser. Just press the pot-buzzer, like in games, to get the right dose of product!

MY CLOTHES:
Directions for use: Apply My Gentle Cleanser to the zero waste disc and gently cleanse your face. After each use, slide the disc in a washing net, in the washing machine from 30°C to 60°C up to 300 times. Wash them with the rest of your laundry.

Ergonomics:
Let's teach children together to reduce their carbon footprint with reusable OUATE discs. Microfleece is an extraordinarily soft material, recognized by our toddlers. They will therefore know how to conquer their hearts and the evening wash will become child's play!
Consignes recyclage

My washcloths:
Secondary pack: Sorting bin

The cardboard box of washcloths is to be placed in the sorting bin (yellow bin). The washcloths are reusable for up to 300 washes!

My gentle cleanser:
Bottle: Sorting bin (Yellow bin)
Pump: Household waste bin (Green bin)

Unscrew the pump and throw it in the household waste bin (green bin). Indeed, in a pump, there are still small metal components which make it non-recyclable for the moment... but we are working hard with the manufacturers to find solutions! The bottle should be thrown in the sorting bin (yellow bin).

Sorting instructions may vary locally.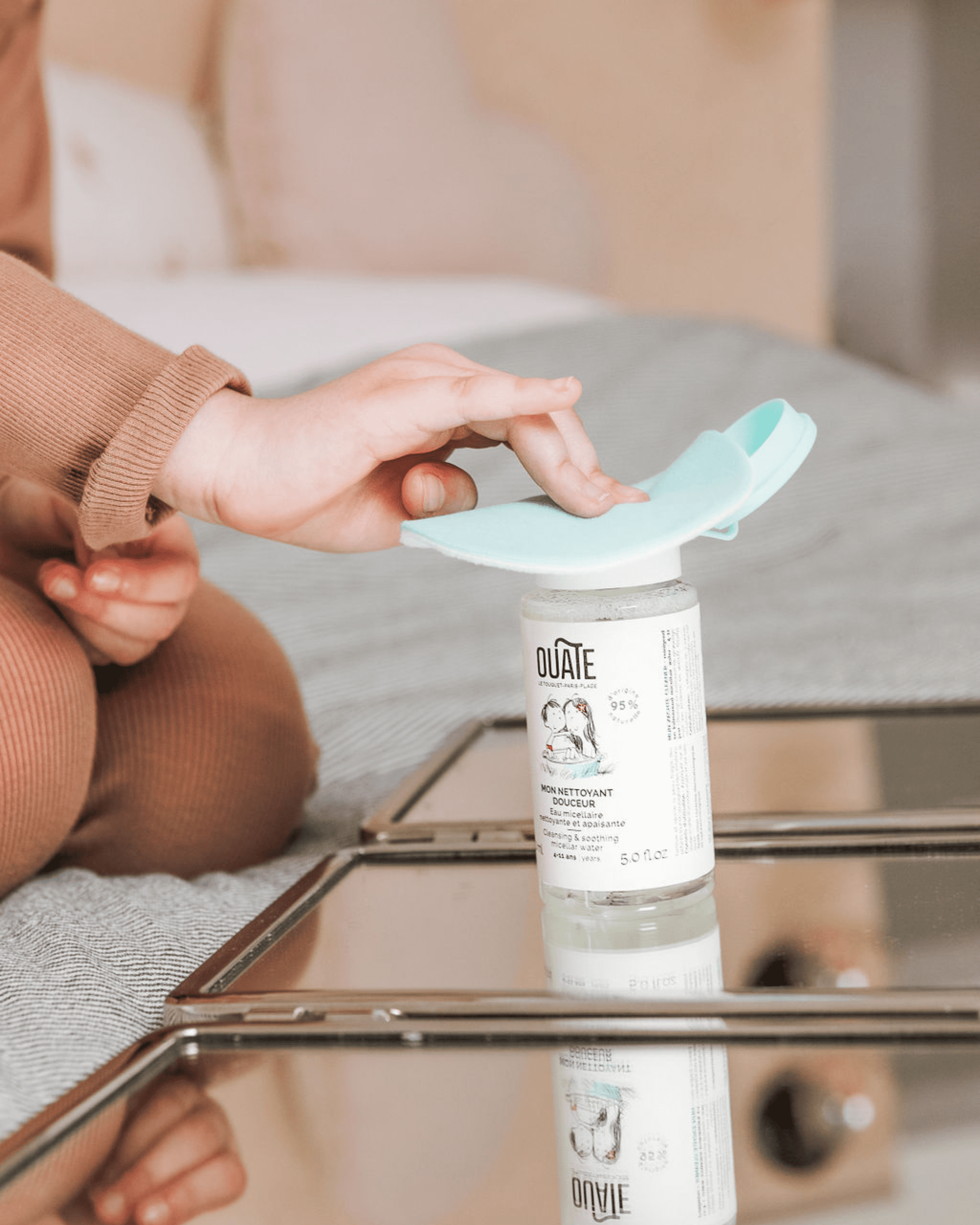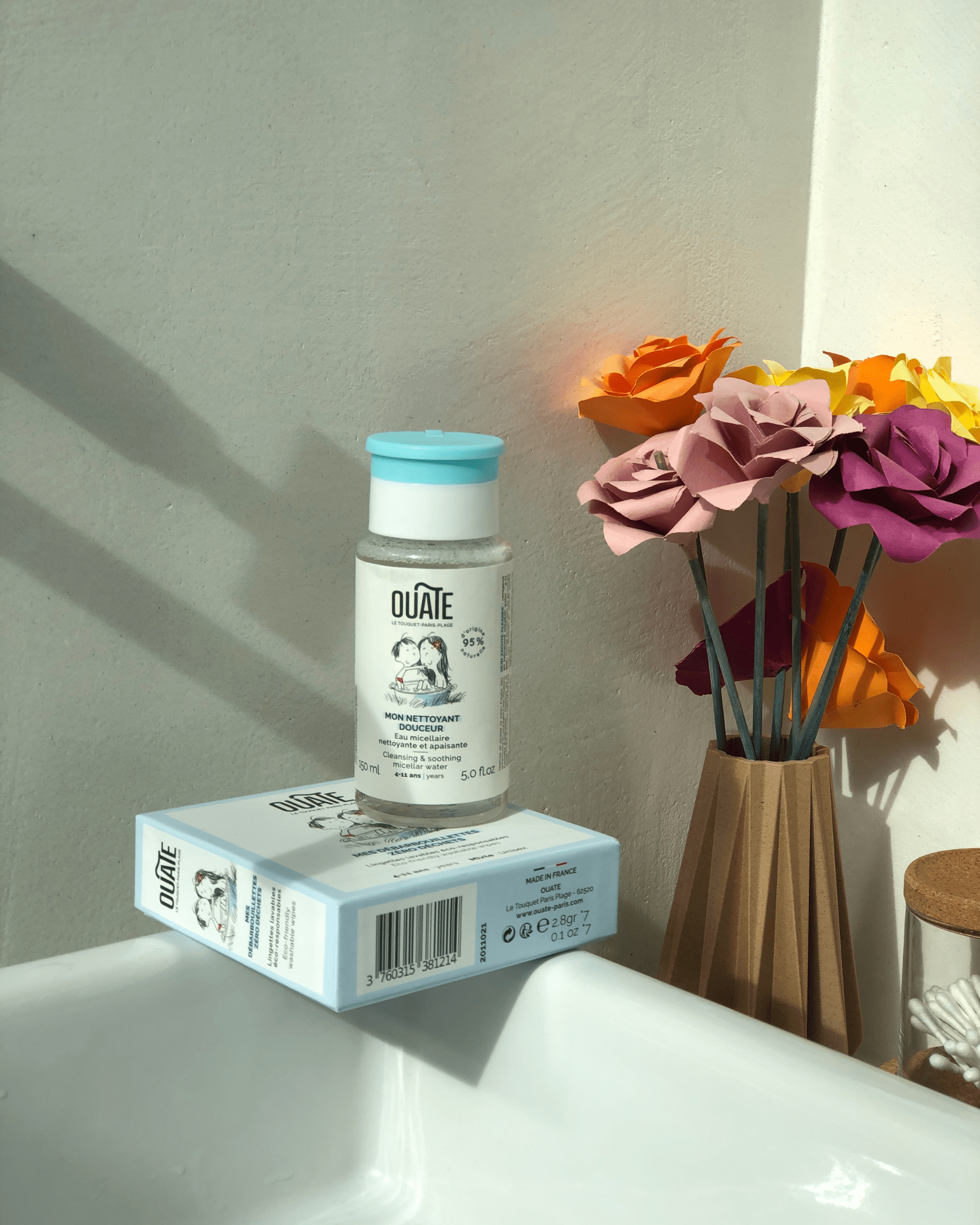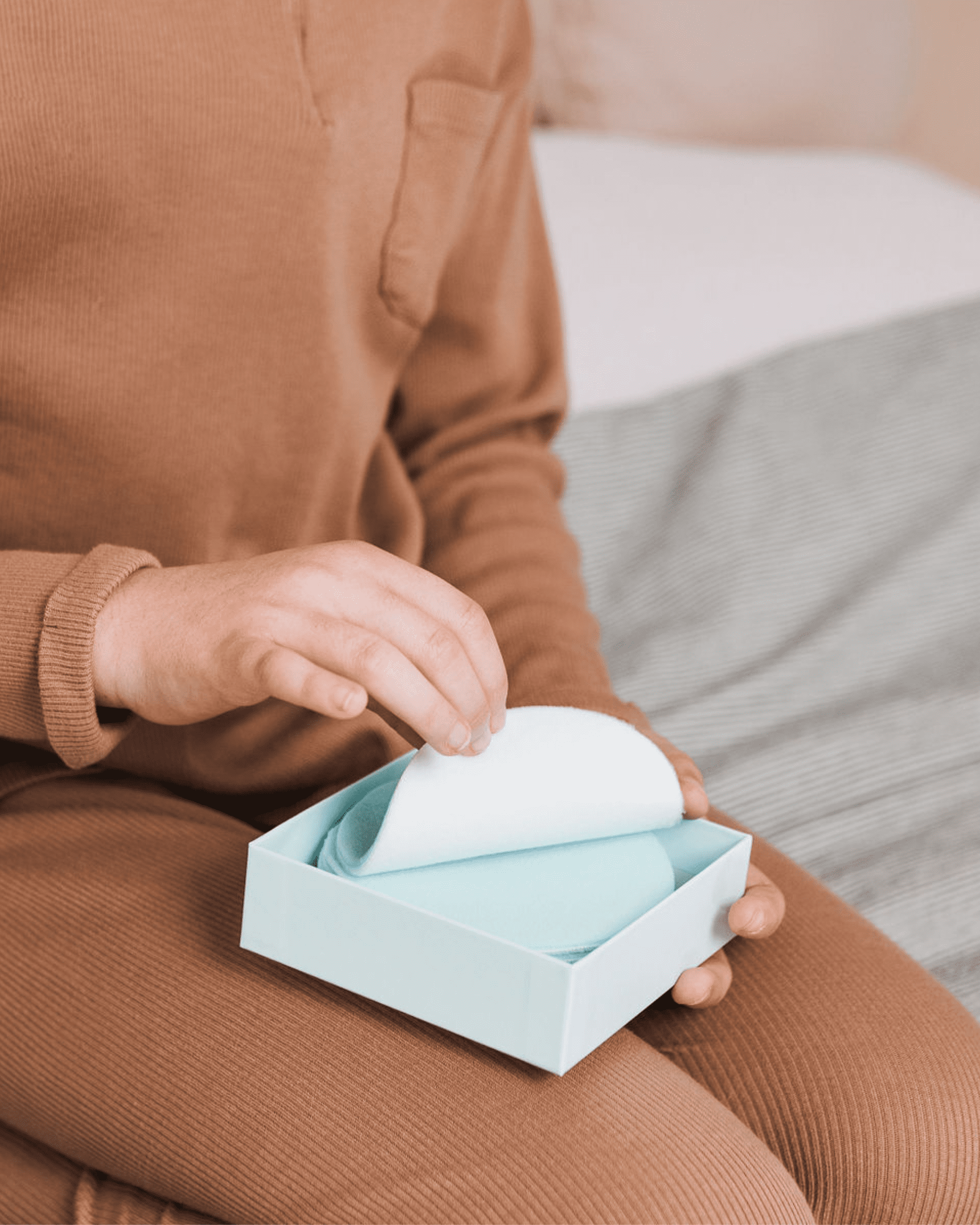 La Ouate Family l'adore
"Bought for the 9-year-old and the 5-year-old also got the cleanser that smells "so good it makes you want to kiss" and the soft washcloths. I had a lot of trouble getting them clean the face morning and evening [...] It has been 9 days since either of them missed a face wash.
I really recommend taking the washcloths, they are super soft, wash very well and dry very quickly. To take on a trip! [...]"

Stephanie B.

Questions fréquentes
Pourquoi faut il prendre soin de la peau des enfants ?
What is the lifespan of a washcloth?
How long does My Gentle Cleanser last?
At what temperature should I wash my washcloths?
Super produit.
Très bon produit. Ma fille adore se nettoyer le visage avec.
Peut-être une question à vous poser. Ma fille m'a demandé pourquoi il y avait sur les lingettes un côté bleu et un côté blanc ? Comme il s'agit de la même matière, je lui ai dit qu'elle pouvait choisir le côté qu'elle préférait mais il y a peut-être quelque chose à faire ou à raconter pour apprendre la propreté avec le côté double utilisation des lingettes (côté bleu et côté blanc)… Mais en dehors de cela, nous avons adopté vos produits. Nous recommanderons à nouveau.
Ludique
Mes enfants sont réfractaires à la toilette… bref, avec les cotons tous doux et le flacon pompe, ils ont trouvé facile et se nettoient la peau avec de partir à l'école, facile, pratique et écolo!
Mon duo douceur
L'avis de ma fille, elle l'adore facile a mettre et sens très bon.
Crème et lotion très bien.
Ma fille veut continuer.
Elle ADORE.
Parfait
Reçu rapidement. Livraison soigneuse.
Ma fille de 11 ans adore et ne touche plus à mes produits : elle adore la douceur des débarbouillettes (je pense en racheter pour également en avoir 😅) la simplicité pour se servir de son eau micellaire, pour l'instant a utilisé que sa crème a bisous offert en cadeau échantillon dont elle adore le nom et l'odeur 😊 quand aux gummy's orties "goût fraise" elle les adore aussi... Cela fait 6 jours qu'elle les utilise il y a eu 2 matins d'oublie je surveille pour bien activer et voir les résultats des gummy's 🙏🏻👌🏻😊 je suis ravies et vais surveiller de près la bonne utilisation et si les gummy's pour imperfections fonctionnement bien je n'hésiterais pas a renouveler aussi bien pour ma fille que pour moi afin d'éliminer mes pommettes toujours roses avec les années...
Merci Ouates 🙏🏻😊