My beautiful skin gummies - sugar-free
Food supplements for dry and sensitive skin - 60 gummies
👧 Dry and sensitive skin from 4 years old
🚫 No sugars
🇬🇧 Made in France
🍊Natural orange flavor
🌈 No artificial coloring
🌾 Gluten-free
🐰Vegan
Regular price

Sale price

€21,58
Efficacité prouvée
Ingrédients magiques

CERAMOSIDES™: Restores the skin barrier and limits transepidermal water loss
ACEROLA FRUIT EXTRACT - VITAMIN C: Protects skin cells from oxidative stress (external aggressions: cold, wind etc.)

INGREDIENTS :
bulking agent: maltitol - preparation based on acerola (ascorbic acid (vitamin C), dry extract of acerola fruit (Malpighia punicifolia L.) - Wheat grain oil (Triticum vulgare) guaranteed gluten-free - gelling agent: pectin - acidifier: citric acid - natural orange flavor - acidifier: sodium citrates - emulsifier: sunflower lecithin - antioxidant: extract rich in tocopherols - cholecalciferol (vitamin D3)

The list of ingredients may be subject to change. Be sure to always check the list of ingredients on the purchased product.

Un jeu d'enfants

Directions for use: 2 gummies per day, preferably in the morning. No need for water to consume them, deliciously melting they can be savored...

Note that: Food supplements should be used as part of a healthy lifestyle and not be used as substitutes for a varied and balanced diet. Keep out of reach of children. Do not exceed the recommended daily dose. Store at room temperature in a clean, dry place. Ask your doctor/pharmacist for advice (pregnant and breastfeeding women).

Ergonomics: Beautiful skin has a good orange taste, without artificial colorings and above all in the shape of a cloud! Our gummies make you want to take care of yourself and when the desire is there, the results are seen!

Consignes recyclage

Cap: Sorting Bin (Yellow Bin)
Pill box: Sorting bin (Yellow bin)

My Belle Peau gummies are designed in single material, making it 100% recyclable.

Sorting instructions may vary locally.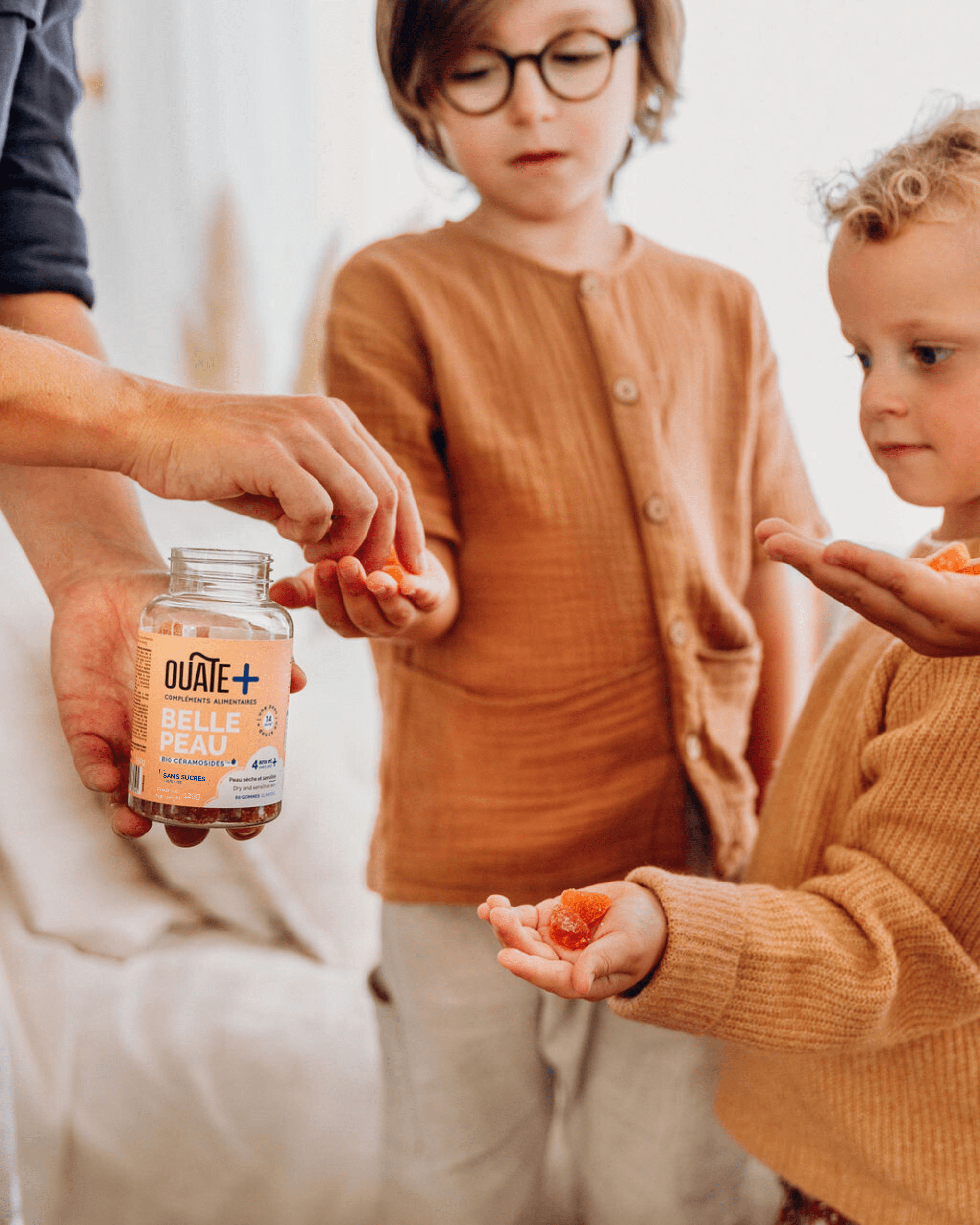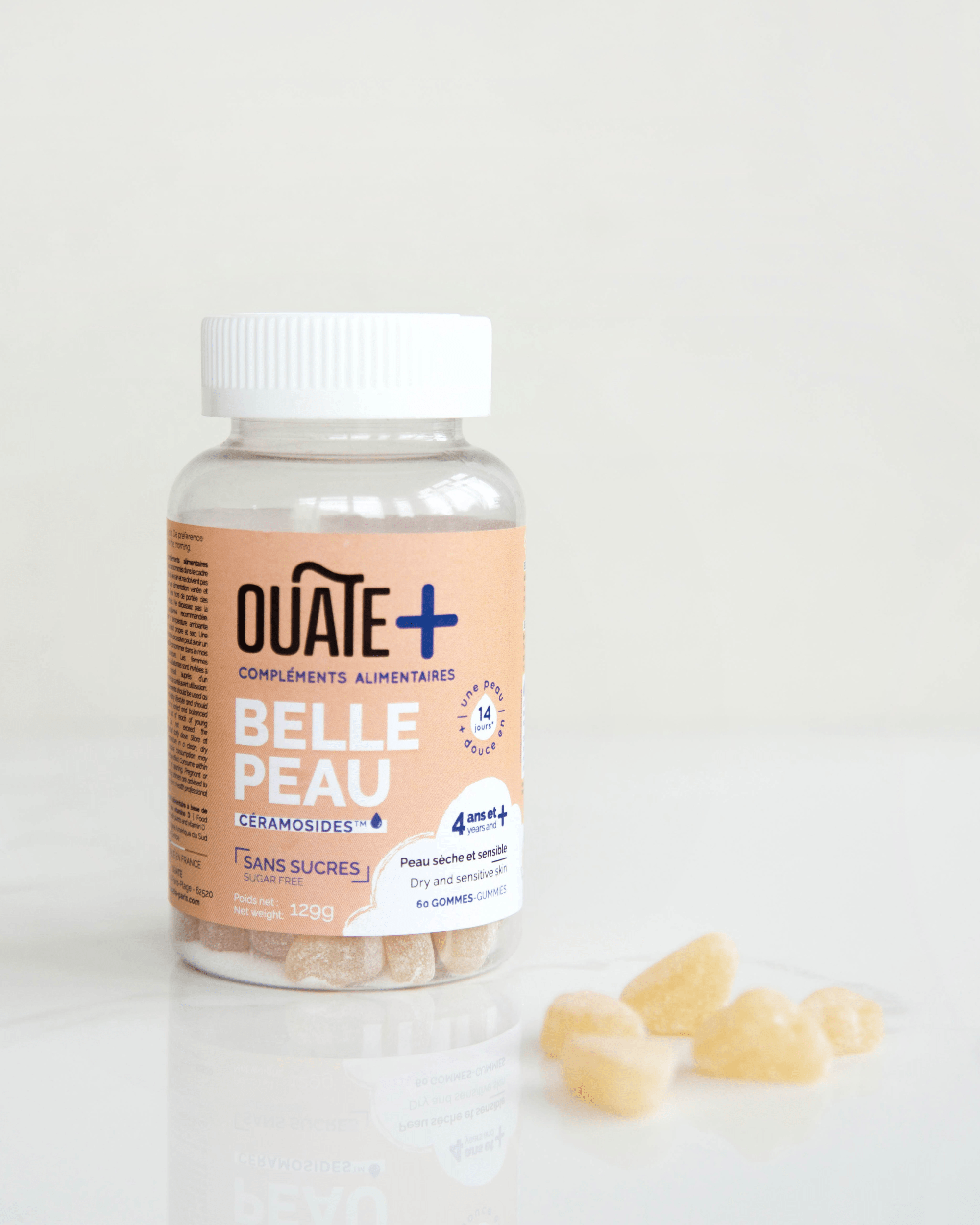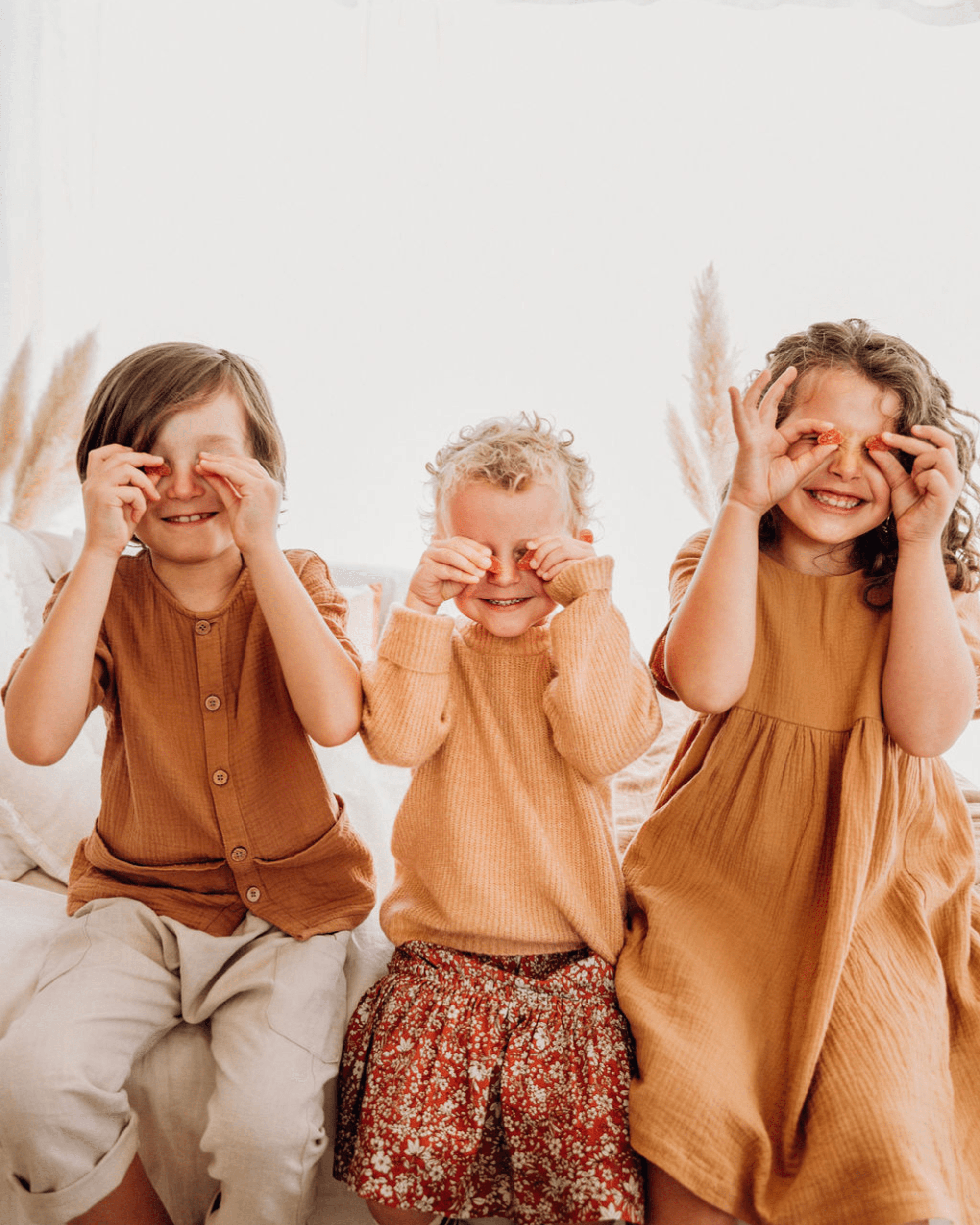 La Ouate Family l'adore
Very good product
"The new formula tastes great. My daughter has smooth skin now and it's not itchy anymore.
I recommend this product"

TH

Questions fréquentes
Pourquoi faut il prendre soin de la peau des enfants ?
Why an in & out ritual?
Why did you choose to replace the sugar in your gummies with maltitol?
What is the difference between "no sugars", "low" and "reduced"?
Parfait .... sauf le sucre
Nous entamons le 2nd mois de cure. La peau de ma fille a changé depuis qu'elle utilise les grummmies. Dommage que le sans sucre soit fabrique que depuis 1 semaine.
Très bon produit
La nouvelle formule a un très bon goût. Ma fille a a une peau douce maintenant et ça ne lui gratte plus.
Je recommande ce produit.
Toujours satisfaite
Mes filles apprécient toujours les gummies belle peau. Elles sont moins sucrées ce qui est plus agréable quand elles le prennent au petit déjeuner. Elles ont l'impression également qu'elles collent moins aux dents. Toujours aussi efficace ! Merci Ouate
Gummies belle peau
Ces gummies sont efficaces. Elle me permettent de me passer de ma crème hydratante pour le corps. Mon visage également semble en profiter.
Bonjour Aude,
Nous sommes ravis d'avoir votre retour sur la cure de compléments alimentaires BELLE PEAU.
Belle journée,
La OUATE family